The Biosis ecology and heritage teams recently had the pleasure of assisting an iconic Victorian tourist attraction, the Puffing Billy Railway.
Opened in 1900 as the rail connection between Upper Ferntree Gully and Gembrook, the line was unique in its narrow gauge construction (one of only four in Victoria), allowing the train to negotiate the Dandenong Ranges' mountainous terrain. The railway was costly to run and plagued by financial losses from the beginning – these were further amplified by dwindling passenger numbers as car ownership increased. The line finally closed in 1954 after a landslide destroyed a portion of the track.
The railway was reopened as a tourist operation in 1962, thanks to the hard work of a dedicated team of volunteers.  In the decades since, the image of the steam engine winding its way through the temperate rainforests and across the Monbulk trestle bridge has become synonymous with tourism in Victoria.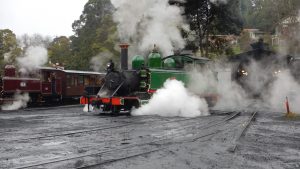 Significant for its historical, social, cultural and aesthetic importance and its contribution to the Victorian economy, the Puffing Billy Railway is one of the few existing examples of a narrow gauge line and a world-class representation of not-for-profit railway preservation.
Puffing Billy's visitor numbers are steadily increasing, placing stress on the existing facilities. The Puffing Billy Railway masterplan was developed to build new visitor facilities and upgrade existing railway facilities and rolling stock.
Biosis was engaged to undertake Aboriginal and historic heritage assessments, develop a Conservation Management Plan and a Cultural Heritage Management Plan, and revise the site's existing Environmental Management Plan to meet statutory requirements and successfully obtain development permits for the proposed upgrades.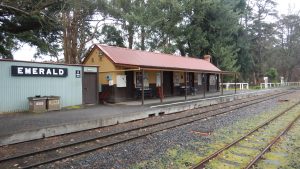 Some key project challenges included:
Location: The railway runs through 24 kilometres of bushland surrounded by native flora and fauna. Many areas marked for development have been identified as areas of Aboriginal cultural sensitivity.
Existing heritage protections: Many of the intended development sites sit under a heritage overlay, which requires development of a full Heritage Management Plan. A previous Cultural Heritage Assessment (2016) found the activity area had potential to contain both surface and subsurface Aboriginal archaeological sites.
Environmental management: While an existing Environmental Management Plan was already in place, it did not support current best practice and environmental legislation. This document was required to support planning scheme amendments.
Biosis applied a multidisciplinary approach to the project, which included:
Performing both desktop assessments and detailed field surveys of the areas marked for development.
Extensive consultation with the Bunurong Land Council Aboriginal Corporation, Boon Wurrung Foundation and Wurundjeri Tribe Land Compensation & Cultural Heritage Council Inc.
Providing a detailed assessment of the ecological and heritage significance of the site, analysing physical evidence and ecological information and assessing the impact of potential development works.
Producing a Cultural Heritage Management Plan and Heritage Management Plan. These documents guide future planning and management decisions and were prepared in accordance to Victorian state and national legislative requirements and policy obligations.
Reviewing the existing Environmental Management Plan to ensure compliance against current legislation and best practice guidelines and ensuring the final product is an open, working document that can be used as a guide and training tool for Puffing Billy Railway staff.
Although parts of the site were identified as having potential to contain Aboriginal artefacts, after extensive archaeological surveying no artefacts were identified. The Biosis heritage team developed the Cultural Heritage Management Plan to include guidelines for action should any artefacts be discovered in future, and ongoing site management conditions have been agreed with Wurundjeri elders.
The final CHMP, CMP and EMP documents included detailed guidelines for undertaking new works without impacting heritage and environmental assets, allowing the Puffing Billy Railway to improve and extend their facilities while carefully preserving and maintaining the site's cultural and environmental values.
In November 2017, the Victorian State Government announced $8.2 million in funding for Puffing Billy, which will ensure the team can proceed with their masterplan objectives, increase visitor numbers and continue to be an iconic presence in the hills for the next generation of locals and visitors.
The Biosis team provides high-quality advice and innovative solutions from our offices across Victoria and New South Wales. To speak to our ecology, heritage and environmental planning experts about your project, please call the Biosis head office on 03 8686 4800.