Biosis senior heritage experts Kasey Robb and Dr Ilya Berelov crossed the ditch to present at the 2017 Environment Institute of Australia and New Zealand (EIANZ) conference, held in Wellington.
This year's conference theme was 'Tu Kaha: Stand Tall. Fronting up with wicked solutions' which aimed to address 'wicked problems' by gathering multi-disciplinary environmental practitioners from Australia, New Zealand and beyond to discuss 'wicked solutions'.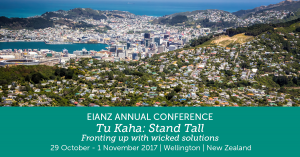 Kasey and Ilya presented a paper on the conference's opening day titled 'Cultural Water in south-east Australia: The challenges of translation and implementation'. The paper delved into the concept of 'cultural water', which connects cultural values with environmental settings and prioritises specific locations for targeted management on the basis of shared cultural and environmental values. This approach to natural resource management has seen success in New Zealand but has faced challenges when borrowed by other cultures – the paper sought to discuss the challenges and successes experienced when implementing such projects in Victoria and south east Australia.
Read the conference abstract here.
While in New Zealand, Kasey and Ilya took time to visit Kasey's alma mater, the University of Otago, where they spoke to the next generation of archaeologists students about working as a consultant archaeologist in Australia.
If you would like to speak with one of our experienced cultural heritage experts, please contact us at our Melbourne head office on 03 8686 4800 or proposals@biosis.com.au.