Mark Venosta our Victorian Team Leader for Zoology recently attended a Bat Conservation International (BCI) workshop in Honolulu, Hawaii. The purpose of the workshop was to bring together bat experts from around the world (see photo below) to share the latest in bat research and monitoring techniques. BCI continues seeking solutions to reduce risk to bats and support long-term, responsible wind energy development. As a consultant working with bats and wind energy, Mark has found BCI and the Bats and Wind Energy Cooperative to be a very useful source of information with many of the world leaders in wind energy and bat research contributing. The conference is one of the ways that Biosis keeps up to date with the latest information and bat research methods – particularly for wind farms.
Topics covered at the conference included:
an overview of bats and wind energy issues,
relevant assessment guidelines and metrics documents,
analysis of data and impact minimisation strategies.
bat carcass searches using trained dogs.
The use of high resolution near infra-red cameras to record bat interactions with wind turbines.
There was a strong focus at the conference on the challenges of detecting and preventing rare or endangered bat species fatalities from wind farms.
Mark was surprised and encouraged to learn that much of the up to date equipment and methods being used for acoustic survey in the US and elsewhere are very similar to those developed by Biosis for long term field assessment in Australia.
Current Biosis bat research and assessment includes:
Recent deployment of Wildlife Acoustics SM2 bat detectors at rotor swept height at a proposed wind energy facility in Victoria.
Automatic analysis of bat call data. Matt Gibson, Resource Group Manager of the Biosis Ballarat office developed the 'AnaScheme' software which is used as standard by many bat researchers in Australia.
Biosis will publish a research paper shortly on recently collected thermal imagery of the critically endangered Southern Bent-wing Bat exiting roost caves in south-west Victoria. The imagery was analysed using modified missile (yes, missile) tracking software to automatically count individuals as they exit the caves.
Biosis is currently developing a method for the prediction of bat collision risks with turbines using high resolution thermal imagery.
This is an exciting area of research that has great application for many of our clients – and Mark is at the forefront of world developments.
Contact Mark on 0428 539 534 to talk to him about the latest developments in bat research.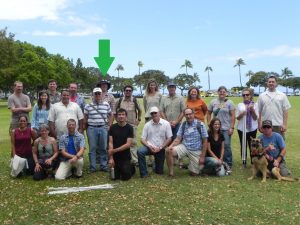 Click on the image for zoom.
BCI Bats and Wind Energy Workshop participants, Honolulu 2013 (Mark Venosta can be seen below the large green pointer)